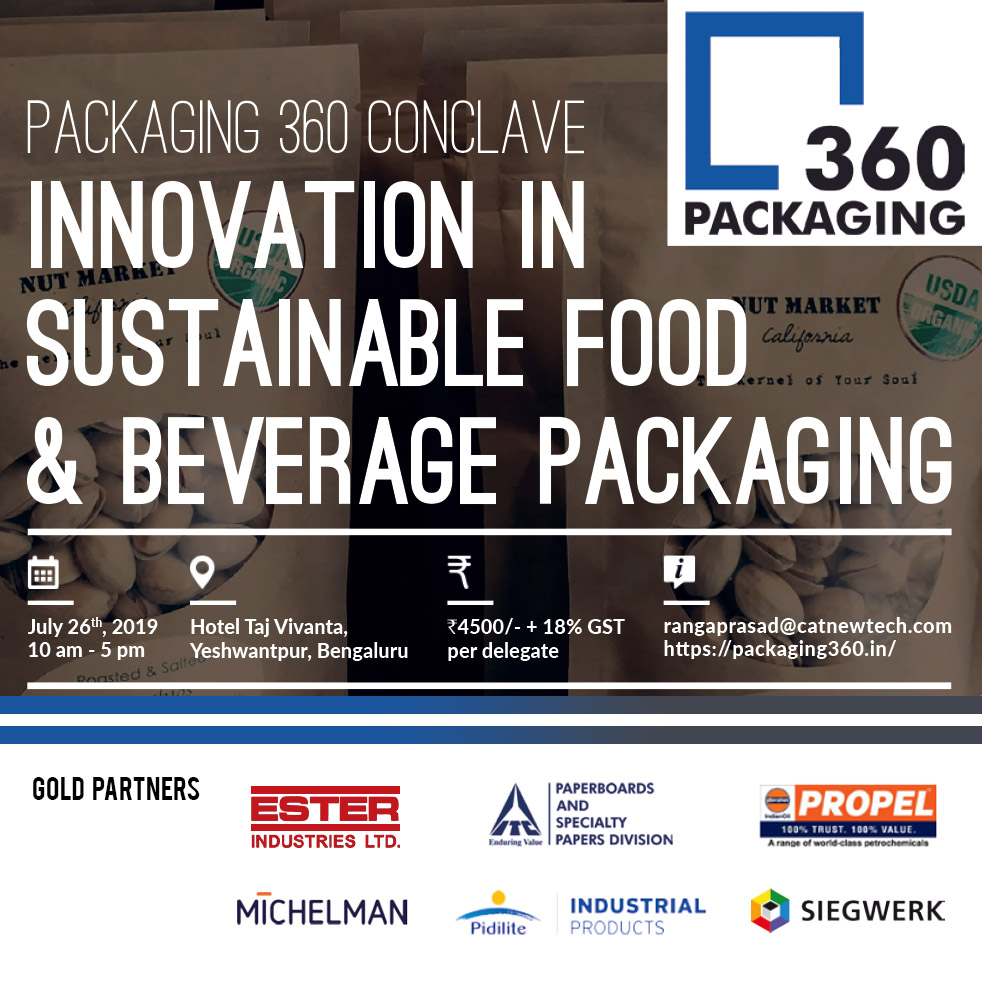 Event details
Thursday | July 26, 2019
All Day
Taj Vivanta, Yeshwantpur, Bengaluru
022-24918065
The Packaging 360 Conclave will focus on Innovations in materials and technology which drive growth to packaged Food & Beverages. All components which go into the making of a successful packaging solution for a food product, are now being scrutinized for safety & sustainability. Thus, the sustainability element of Food packaging will also be discussed at this conclave.
The conference will focus on the following areas
in the packaging space.
Key Industry Trends
Advances in Packaging Material & Technology
Safety Aspects of Adhesives & printing inks used in packaging formats
New Food Packaging formats
Value – enablers for food packaging
Packaging Testing & Quality Control
Food Packaging Laws & Regulations
Who should attend:
Food Companies
Primary Packaging Material suppliers
R&D professionals
Packaging Material Procurement staff
Ancillary Material suppliers
Brand owners
Retail outlets
Professionals from QSR
Food Delivery providers
Delegate Registration
Speakers & Agenda
09:00 – 10:00 am
Registration & Breakfast
10:00 – 10:15 am
Welcome Address
| Dilip Raghavan, Packaging 360
10:15 – 10:40 am
Polyolefins as sustainable Food Packaging Material
| Dhananjay Sahoo, Indian Oil Corporation Ltd.
10:40 – 11:05 am
Barrier Coatings for Packaging
| Shailesh Nema, Michelman India Pvt Ltd
11:05 – 11:30 am
Safety of Printing Inks for Flexible Packaging
| Jatin Takkar, Siegwerk
11:30 – 11:55 am
Way Forward for Packaging Adhesives
| Dr. S. Roy & Dr. M. Gupta, Pidilite Industries Ltd
11:55 – 12:20 pm
PET Films for Food Packaging
| Girish Behal, Ester Industries Ltd.
12:20 – 12:45 pm
Making Recycling Easy – An Innovative Tie Layer Resin
| Anil Mehta, Pluss Advanced Technologies Ltd
12:45 – 01:10 pm
Paper & paperboard packaging
| PN Sridharr, ITC Ltd PSPD
01:10 – 02:10 pm
Lunch Break
02:10 – 02:35 pm
Global Food Contact Regulations
| Sunanda Kadam, Intertek
02:35 – 03:00 pm
Glass: "Evergreen" for Food packaging and Delivery
| Dipankar Agarwal, Ajanta Bottle Pvt. Ltd.
03:00 – 03:25 pm
FSSAI Packaging & Labelling Regulations
| Sachin Achintalwar, AFSTI – Bengaluru Chapter
03:25 – 03:50 pm
Creativity in Packaging Design for F&B Packs
| Abhijit Bansod, Studio ABD
03:50 – 04:15 pm
Innovative F&B Packaging Concepts
| Amit Saurkar, MTR Foods Pvt Ltd
04:15 – 04:40 pm
Packaging & Sustainability Challenges of Food Delivery Companies
| P C Anilkumar, Swiggy
* Programme subject to change