Profile
Based in Mumbai, CNT Expositions and Services LLP is an established global media and events group. CNT is an acronym for Catalysing New Technologies and in the same spirit we work closely with industry to create knowledge sharing and business networking forums to promote and catalyse new technologies in varied spheres.
We run tradeshows, conferences, seminars and magazines in the areas of 3D Printing, Inkjet Printing and Packaging .
Driven by a committed and dynamic team with experience in technology, events and media, our initiatives create a difference in the industries we work in.
---
Aditya Chandavarkar
Co-Founder
Aditya Chandavarkar is a established entrepreneur with business interests in manufacruring, innovative technology and consulting. He is the co-founder of CNT Expositions and Services (acronym for Catalysing New Technologies), which was subsequently formed by the acquisition of Inkjet Forum India – a leading knowledge sharing platform for inkjet printing technology founded by him. At Inkjet Forum India, Aditya was single handedly responsible for conceptualizing and organizing conferences and educations programs, in the area of digital textile printing and industrial inkjet.
He is also a Director at Silversheen Inks & Coatings Pvt. Ltd. (www.silversheen.com), a company which is involved in the manufacturing of printing inks, & coatings. At Silversheen, Aditya is actively involved in business development & strategic planning. He was the instrumental in the appointment of Silversheen Inks & Coatings Pvt Ltd as the authorised distributor for graphic and industrial inkjet inks and associated ancillary products by Chimigraf Ibérica SL, Spain for the Indian subcontinent.
He is also the Founder & CEO at Inkjet Forum India, which is a knowledge-sharing platform for disruptive printing technology. Inkjet Forum India organizes conference, educations programs, and exhibitions in the areas of digital textile printing, industrial inkjet & 3D Printing.
Aditya speaks at leading conferences worldwide on the development and evolution of inkjet printing.
Aditya holds a Bachelor of Science degree in Biomedical Science from University of Central Lancashire, Preston and a Master of Science degree in Biotechnology from University of Manchester, UK.
Dilip Raghavan
Co-Founder
Dilip Raghavan is the co-founder of CNT Expositions and Services LLP (acronym for Catalysing New Technologies), which will cater solely to new emerging markets and industries. CNT has already created a new event for the 3D printing industry, and has entered the digital and inkjet printing space, through its acquisition of Inkjet forum India.
He is also the Managing Director of Colour Publications Pvt Ltd, India's oldest publishing houses for techno-commercial journals in India. They have been in existence for over 65 years and publish seven periodical B2B titles for varying industries such as paints/coatings, plastics/polymers/packaging, textiles, nonwovens/technical textiles, inkjet printing, 3D Printing, chemicals, personal/home care, food, pharma, etc. He serves as the Editor-in-Chief and Publisher for these titles, all of which have chemistry and coloration as their fundamental commonality. All of these titles are the undisputed leaders in their space in India, with a significant presence and recognition globally too.
He was instrumental in recently forging a Joint Venture alliance, wherein the Paintindia Exhibition became part of the European Coatings Show alliance. He continues to be a majority stakeholder in this event, and the Managing Director of Exponova Exhibitions and Conferences (I) Pvt Ltd, the JV entity. He is also the Co-Founder of a new start-up entity called Trademill Technologies Pvt Ltd, which is a technology outfit designed to serve the online business needs of various B2B industries, with a special emphasis on the chemical industry.
He frequently represents India and the industries that he serves through his publications at international forums both as a Media Representative, and at times as a country speaker.
He has a Bachelor's degree in Engineering (B.E.) with a specialisation in Electronics and Telecommunications from Mumbai University. married, with one son. He is an avid animal-lover. His hobbies include extensive reading and public-speaking.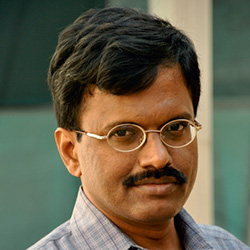 S Radhakrishnan
Head - Content
Radhakrishnan brings his cross-industry content expertise to CNT Expositions and Services LLP. In addition to CNT, S Radhakrishnan is the Group Editor of three leading Techno Commercial Journals serving the Coatings, Paints, Polymers, Plastics, Textiles and Packaging Industries. Besides this he is also the content editor and writer on several websites.