19th October 2017,
Mumbai.
---
Inside 3D Printing Mumbai organized jointly by CNT Expositions and Services LLP and Rising Media has successfully hosted 2 editions in 2015 and 2016. With the growth and success of Metal AM in India the organisers are now geared up to have a strong focus on the Metal segment at Inside 3D Printing Mumbai 2017.
This will be reflected in the exhibitor profile, visitor marketing, conference content and indeed the general outlay of the event. There will be a stronger emphasis on visitors from the underlying user segments driving growth in Metal AM, namely Automotive & Transportation, Defense & Aerospace, as well as Medical & Dental. There will be a strong engagement with the Tools and Dies industry, which serves as a strong influencer and intermediary to these end-user segments too. To offer a better basket of overall solutions there will be a strong focus on 3D Scanning and Software too.
Aditya Chandavarkar, Partner, CNT Expositions and Services LLP adds "We are optimistic that we will be able to adequately serve the Metal AM industry through these efforts at the event, and building upon the existing strong base with the plastics segment, we are now placed to offer a more complete service to the 3D Printing Industry in India as a whole, and play our part in boosting its prospects on a neutral platform that we constitute and represent.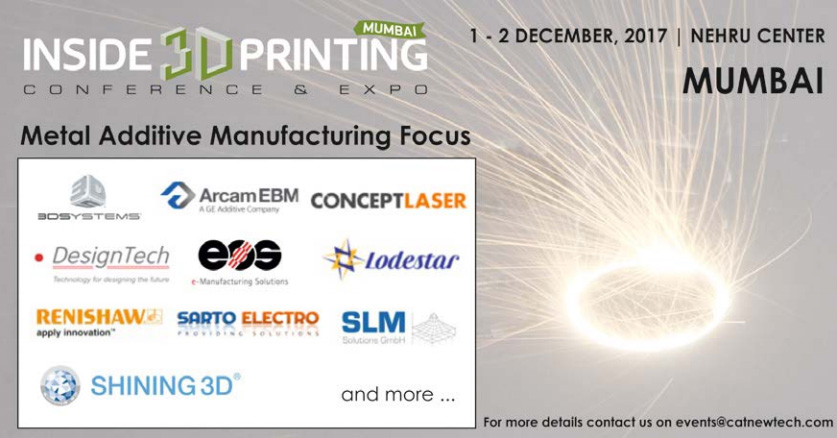 About CNT Expositions and Services LLP
Based in Mumbai, CNT (Catalysing New Technologies) Exposition and Services LLP has established a series of successful seminars, conferences and exhibitions in India on diverse subjects such as Digital Textile Printing, Industrial Inkjet Printing, Additive manufacturing and other applications. They also provide Be-spoke consulting and market research services to the various stakeholders of the industry to grow in the inkjet and 3d printing industry.
About Inside 3D Printing Mumbai
I3DP Mumbai is a comprehensive knowledge sharing platform for 3d printing and Additive manufacturing focussed towards both the consumer and industrial verticals. Our focus is to engage with the 3D/AM community on a constant basis and allow 3D printing to be showcased as an enabling tool for various industries. Having launched the inaugural edition of Inside 3D Printing Mumbai in 2015, and having had an extremely successful maiden edition, I3DP 2017 is now on the floor slated to take place at Nehru Centre, Mumbai, on 1-2 December 2017. For more details visit www.inside3dprinting.co.in